Collecting Every Game for the Nintendo Game Boy
Wednesday 8 November 2017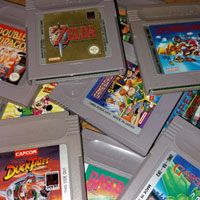 I decided the other night that I am going to try and collect all the games released in the UK for the original Nintendo Game Boy. There are a total of 405 games which doesn't sound an awful lot but I think this is a quest that might take a few years!
At the moment I have over 20 original games which include classics such as Tetris, Super Mario Land, Double Dragon etc and I've started buying some of the cheaper games on eBay in recent days so I can ramp up the numbers. I do like to play every game I buy, even if it's just once, sometimes this is a good way of discovering some fun, new games!
So what is my history with the Game Boy? Well I never actually owned one as a kid but a sibling had a Japanese import with a load of games so I was lucky enough to play on that. I would have been about 6 or 7 years old when exposed to the likes of Kwirk, Gargoyles Quest, Gremlins, Super Mario Land etc. My favourite Game Boy game is still Kwirk, it's a hugely addictive top down puzzle game and as of the time of writing I am yet to own!
My first Game Boy that I owned myself was the Game Boy Advance which I bought new when they first came out, and because of backwards compatability I picked up a load of games off eBay back in the early naughties when some of the rare stuff was relatively inexpensive. I then stupidly sold off a bunch of games in about 2006 and stopped collecting/buying games until just recently.
At the time of writing I own a number of Game Boys, the only one missing from my collection is the Game Boy Light which is super rare anyway as it was only sold in Japan. I will be posting regular updates to keep everyone updated on my progress as well as posting the daily deliveries from the postman on Instagram.